PACIFIC FAIR MAGIC MILLIONS POLO & SHOWJUMPING
Date: January 7, 2024
Location: Doug Jennings Park, Main Beach QLD
Expressions of interest for Senior & Junior Event Competitors are now open.
The Pacific Fair Magic Millions Showjumping returns in 2024 with a $1.45 million prize pool!
The Senior event will once again run as a teams competition, where the top 48 riders will be selected from the expressions of interest stage, then randomly assigned to teams to compete for their assigned Slot Holder. This provides the opportunity for both competitors and industry supporters a chance to compete in the richest Showjumping event in Australia!
The Junior individual competition returns in 2024, with 15 of the country's top Junior riders selected to compete for $10,000 in prize pool, thanks to our partners Coolmore Australia, Peachester Lodge & Magic Millions.
NEW in 2024 is the Queensland Off-The-Track Cup!
Queensland Off-The-Track qualifying round: Toowoomba, Darling Downs Jump Club November 26, 2023.
Magic Millions Sydney Summer Classic qualifying round: Sydney International Equestrian Centre December 7 – 10, 2023.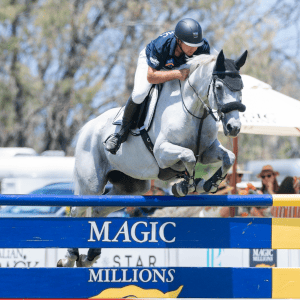 Expressions of Interest – Competitors